Vote for the Chorale during News12 CT's "Sounds of the Season" (Nov 28 thru Dec 2 at noon)
We are excited to be in the "top 12" for News 12 CT's "Sounds of the Season." The winners will be chosen based on number of votes received this week. Good news is that you can vote right now and then vote again in 24 hours, until Friday Dec 2 at noon.   
Please go to: https://m.cmpgn.page/qxQ6mv
To vote, click on the pink bar with the heart underneath the Chorale's video of "We Need a Little Christmas."
Saturday, December 3, 2022 – Holiday Stroll – 12:00 – 12:30 pm – Main Street, Ridgefield
Members of The Ridgefield Chorale will present holiday favorites as part of this year's Holiday Stroll, sponsored by Downtown Ridgefield.   Find us in front of Town Hall, Main Street at noon.  HOLIDAY STROLL CAROLING AT TOWN HALL CANCELLED DUE TO WEATHER – SATURDAY DEC 3
Sunday, December 11, 2022 – Holiday Concert – 7 pm – The Ridgefield Playhouse
The Ridgefield Chorale's Annual Holiday Pops Concert will be held on Sunday December 11 at 7 pm,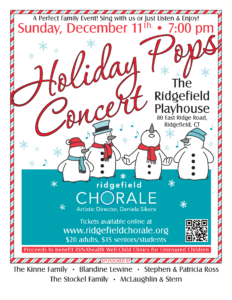 at The Ridgefield Playhouse, 80 East Ridge Road, Ridgefield, CT. 
Thank you to our sponsors, The Kinne Family, Blandine Lewine, Stephen & Patricia Ross, The Stockel Family, and McLaughlin & Stern. 
Proceeds from the holiday concert benefit RVNAhealth Well-Child Clinics for uninsured children. Tickets: $20 adults, $15 seniors/students.   BUY TICKETS ONLINE