Tuesday, June 21, 2022 – Make Music Day in Ridgefield – Ridgefield Library – 5:15 pm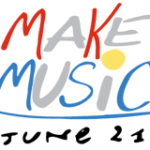 Make Music Ridgefield is a part of the international Make Music Day movement which brings free, community-wide, outdoor musical celebrations to hundreds of cities worldwide! Every year, the celebration is held on June 21, the summer solstice, in more than 1000 communities around the world.  Make Music Ridgefield is brought to you by the Ridgefield Arts Council as part of their mission to generate attention for Ridgefield's vibrant arts community. The Ridgefield Chorale will perform on the front lawn at the Ridgefield Library (472 Main Street) starting at 5:15 pm.    If it rains, we will be inside in the main program room.
Please enjoy the Chorale's performance as well as the variety of other musical events happening in Ridgefield.      Click to see the full list of events on the Ridgefield Arts Council site.