This is Who I Am – Saturday May 13 at 7 pm
More than 54 million people in America sing in a chorus.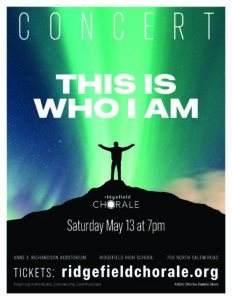 More than 54 million people, from children to seniors, from all economic groups, all ethnic backgrounds, with diverse political views, different religions, orientations, professionals, amateurs come together to sing and socialize and work toward a common, beautiful goal: to create inspiring, beautiful music.
Our concert, This Is Who I Am," celebrates 65 of these people, the singers of the Ridgefield Chorale. Hear the songs that reflect our diversity and our commonalities, from contemporary choral masterpieces to musicals to pop and jazz standards. Songs about love, friendship, personal struggle, triumphs and of joys and shared sorrows.
We are 65 in 54 million.  Come and see who we are on May 13, 2023 at the Anne S. Richardson Auditorium at Ridgefield High School.
Experience 65 becoming one.         PURCHASE ONLINE TICKETS NOW

Presented with funding from the Connecticut State Department of Economic and Community Development/Connecticut Office of the Arts (COA) from the Connecticut State Legislature.