Saturday, May 14, 2022 – "Only All of Us", 7 pm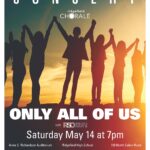 Important note:  Tickets are only available via online purchase.  
The Chorale will present "Only All of Us," a concert celebrating resilience and heroes and the discovery of the strength that lies within us as individuals and as communities. Presented at the Anne S. Richardson Auditorium at Ridgefield High School, and accompanied by the Ridgefield Symphony Orchestra, this multi-media "choral musical" will take us through a time that challenged not only a few, but all of us.   Please note Covid protocols – Audience members are required to wear a face mask.
Tied together with original dialogue and a thread of contemporary, familiar songs, this show will be the first collaboration of Artistic Director Daniela Sikora and Stage Director Carol Mark.   Read the full press release
HERE
.
This concert is presented with funding from the Connecticut State Department of Economic and Community Development/Connecticut Office of the Arts (COA) from the Connecticut State Legislature. 
Please join us for this memorable event.