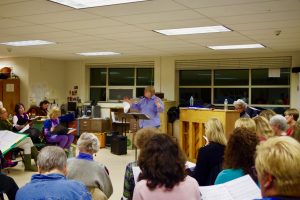 Incorporated in 1976, the Ridgefield Chorale, with Ernestine Holmes as its founding director, was formed to bring together non-professional singers to present works from the classical choral repertoire. In 1998, Daniela Sikora took the reins of the Chorale and decided to take the organization in another direction, one that might attract singers and audiences who were looking for a different kind of choral group, one that specializes in contemporary music, both popular and "classical."
Today the group of 65 singers, known for its vocal excellence, presents the music of today's finest contemporary choral composers and arrangers from a cappella to Broadway, jazz, and world music. Whether by an orchestra, a band or by its gifted collaborative pianist, Carol Spaulding, the Chorale is accompanied by some of the area's finest musicians.
A vital part of the performing arts scene in Connecticut – Ridgefield is Connecticut's First Cultural District – the Chorale offers two major concerts a year plus a December Holiday concert which raises funds for local non-profit organizations. The group participates in many other community events in the region, including the annual Rev. Dr. Martin Luther King, Jr. celebration, the 9/11 Ceremony of Remembrance, and inter-denominational Thanksgiving services. The Chorale has also performed during the NCAA Women's Basketball Championships, the finals of the US Women's Gymnastic Tournament and the 50th Anniversary of The Sound of Music in Salzburg, Austria.
The Ridgefield Chorale is an organization that recognizes and respects the differences and similarities of every individual; it is committed to making members feel welcomed, safe, accepted, and supported. The culture of the Chorale embodies this spirit of inclusivity and civic mindedness. Members volunteer their time to participate in activities that impact the lives of children, seniors, students, and other citizens in a positive way.  If you are interested in joining us but have questions, please reach out via email to info@ridgefieldchorale.org or call 877-815-5635.
Our ADEI Statement
The Ridgefield Chorale believes that being an inclusive music community enriches us all
and adds to the quality of our work. We are committed to fostering a community that
respects, values, and reflects access, diversity, equity, and inclusion (ADEI).
We strive to create an organization that recognizes and respects the
differences and similarities of every individual, and where everyone is welcomed,
and feels safe, accepted, and supported.
We understand this is a journey that will evolve over time,
and we embrace the opportunity to grow together.
Chorale Artistic Director and Conductor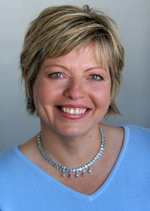 In fall 2023, Daniela Sikora will celebrate her 25th Anniversary as Artistic Director and Conductor of the Ridgefield Chorale.
Born in Germany and raised in Chicago, Daniela's education took her from the Rheinische Hochschule für Musik in Germany, to Northwestern University's Bienen School of Music, and the Jacobs School of Music at Indiana University where she did her graduate work in Voice Performance and Arts Management. She has won numerous awards, honors, and competitions as a professional musician, including the Metropolitan Opera Regional Award and a Fellowship in Chamber Music at the Aspen Music Festival in Aspen, Colorado. As gifted as Daniela Sikora is in the world of classical music and opera, she is just as at home with the standards, Broadway show tunes, pops and swing numbers that transport her audiences.
Her fresh approach to rehearsals and music education creates a comfortable ambiance of learning, camaraderie, and connections. Daniela is a leader and an inspiration not just for members of The Ridgefield Chorale but also for other arts leaders in Ridgefield who look to Daniela for her creative energy and commitment to bringing the best of the arts to Ridgefield.
In 2017, Daniela received the Town of Ridgefield's Spirit of Dr. Martin Luther King Award, which recognized her tireless work and advocacy for the arts. In 2021, Daniela received a Connecticut Arts Hero award for her inspiring work in the arts community.
Chorale Board of Directors
The Ridgefield Chorale, Inc. is a 501(c)(3) not-for-profit organization whose members are governed by a vital Board of Directors and Executive Committee of Chorale officers. The Executive Committee currently serving their elected term of two years (9/1/22 – 8/31/24) are:
President, Jennifer Christensen
Vice President, Diane Purvis
Secretary, Amy Hancock
Treasurer, Laurie Bradbury
Chorale officers can be contacted by sending an email to info@ridgefieldchorale.org
How to Join
If you love to sing and you value an artistic outlet in your busy life, you may want to attend rehearsal and see for yourself: our main weekly rehearsal is on Tuesdays from 7:30 -9:30 p.m. We typically rehearse August through May. For more information, send an email to info@ridgefieldchorale.org or call toll free, 1-877-815-5635.
In Good Company
The Ridgefield Chorale is proud to be among many extraordinary organizations that foster appreciation of the visual and performing arts. For more information, please visit:
The Ridgefield Chorale is a member of: