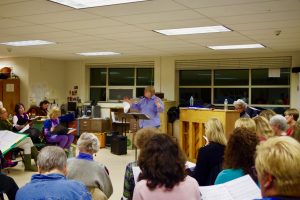 The Ridgefield Chorale, a contemporary music singing group whose 70+ members hail from Fairfield County Connecticut and Westchester County New York, is known for its vocal excellence. Dedicated to the performance of contemporary choral music, from a cappella to Broadway, the standards, jazz and world music, the Chorale presents today's finest choral composers and arrangers, accompanied by some of our area's best musicians.
The common bond that connects the singers stems from their strong sense of camaraderie and civic-mindedness. Chorale members volunteer their time not only to blend in four-part harmony but also to help their fellow citizens. Members participate in numerous other community activities which impact the lives of children, seniors and students in a positive way. A vital part of the performing arts scene in Connecticut and New York, The Ridgefield Chorale offers two major concerts a year and a holiday concert, and participates in many other community events, to lift spirits and provide hope through song. Listen to The Ridgefield Chorale on our YouTube channel!
It is the policy of The Ridgefield Chorale to offer audience, participation and commercial opportunities without unlawful regard to race, sex, religion, color, national origin, ancestry, age, physical or mental disability, sexual orientation, marital status or any other basis prohibited by law.
Chorale Artistic Director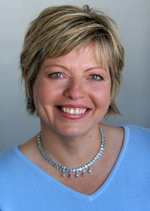 Daniela Sikora was born in Germany and raised in Chicago. Daniela's education took her from the Rheinische Hochschule für Musik in Germany, to Northwestern University, then to the graduate school of music at Indiana University where she majored in Voice Performance and Arts Management. She has won numerous awards, honors and competitions as a professional musician, including the Metropolitan Opera Regional Award and the distinction of a Fellowship in Chamber Music at the Aspen Music Festival in Aspen, Colorado. Some of her notable roles include Rosina in The Barber of Seville, Susanna in The Marriage of Figaro and Queen of the Night in Die Zauberflöte. As gifted as Daniela Sikora is in the world of classical music and opera, she is just as at home belting out familiar standards, Broadway show tunes, pops and swing numbers that transport her audiences. Locally, Daniela has served as Artistic Director of The Ridgefield Chorale since 1998. She also directs the Founders Hall Singers. In addition to all this, she is a much sought-after soloist and respected music arranger, composer and conductor. Her fresh approach to rehearsals and music education creates a comfortable ambiance of learning, camaraderie and connections with everyone Daniela directs. Daniela is a leader and an inspiration not just for members of The Ridgefield Chorale but also for other arts leaders in Ridgefield who look to Daniela for her creative energy and commitment to bringing the best of the arts to Ridgefield. In 2017, Daniela received the Town of Ridgefield's Spirit of Dr. Martin Luther King Award, which recognized her tireless work and advocacy for the arts. In 2021, Daniela received a Connecticut Arts Hero award for her inspiring work in the arts community.
Chorale Board of Directors
The Ridgefield Chorale, Inc. is a 501(c)(3) not-for-profit organization whose members are governed by a vital Board of Directors and Executive Committee of Chorale officers. The Executive Committee currently serving their elected term of two years (9/1/22 – 8/31/24) are:
President, Jennifer Christensen
Vice President, Diane Purvis
Secretary, Amy Hancock
Treasurer, Laurie Bradbury
Chorale officers can be contacted by sending an email to info@ridgefieldchorale.org
How to Join
If you love to sing and you value an artistic outlet in your busy life, you may want to attend rehearsal and see for yourself: our main weekly rehearsal is on Tuesdays from 7:30 -9:30 p.m. We typically rehearse August through May. For more information, send an email to info@ridgefieldchorale.org or call toll free, 1-877-815-5635.
In Good Company
The Ridgefield Chorale is proud to be among many extraordinary organizations that foster appreciation of the visual and performing arts. For more information, please visit:
The Ridgefield Chorale is a member of: