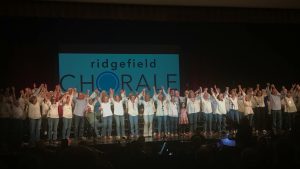 It is such a good feeling to help the arts flourish in your neighborhood. To benefit from The Ridgefield Chorale's success through concerts with the best quality productions you deserve and expect, you may want to make a gift of support.
As a 501 (c) (3) not-for-profit arts organization, concert ticket sales and membership dues cover less than 40% of the Chorale's annual funding needs, leaving the rest to be funded by donations from corporations, businesses and individuals,
The Ridgefield Chorale values its patron support and is pleased to have you support the Chorale at a level that is comfortable for you:
Bronze: $25 and us
Silver: $100 and up
Gold: $250 and up
Platinum: $500 and up
Diamond: $1,000 and up
Your employer may be able to match your contribution of support to The Ridgefield Chorale.
Please mail your check to The Ridgefield Chorale, P.O. Box 686, Ridgefield, CT 06877.
Or, Donate Online Now
Got a question? Want to be a season sponsor?  Please email info@ridgefieldchorale.org. We appreciate your support more than you know!
Corporate and Foundation Sponsors (Updated October 2023)
The Chorale is extremely grateful to the local businesses and organizations, corporations and foundations who recognize The Ridgefield Chorale as a vital arts organization! We thank them for their ongoing sponsorship and encourage you to thank them as well!